What I'm Cooking Lately
French Apple Tarts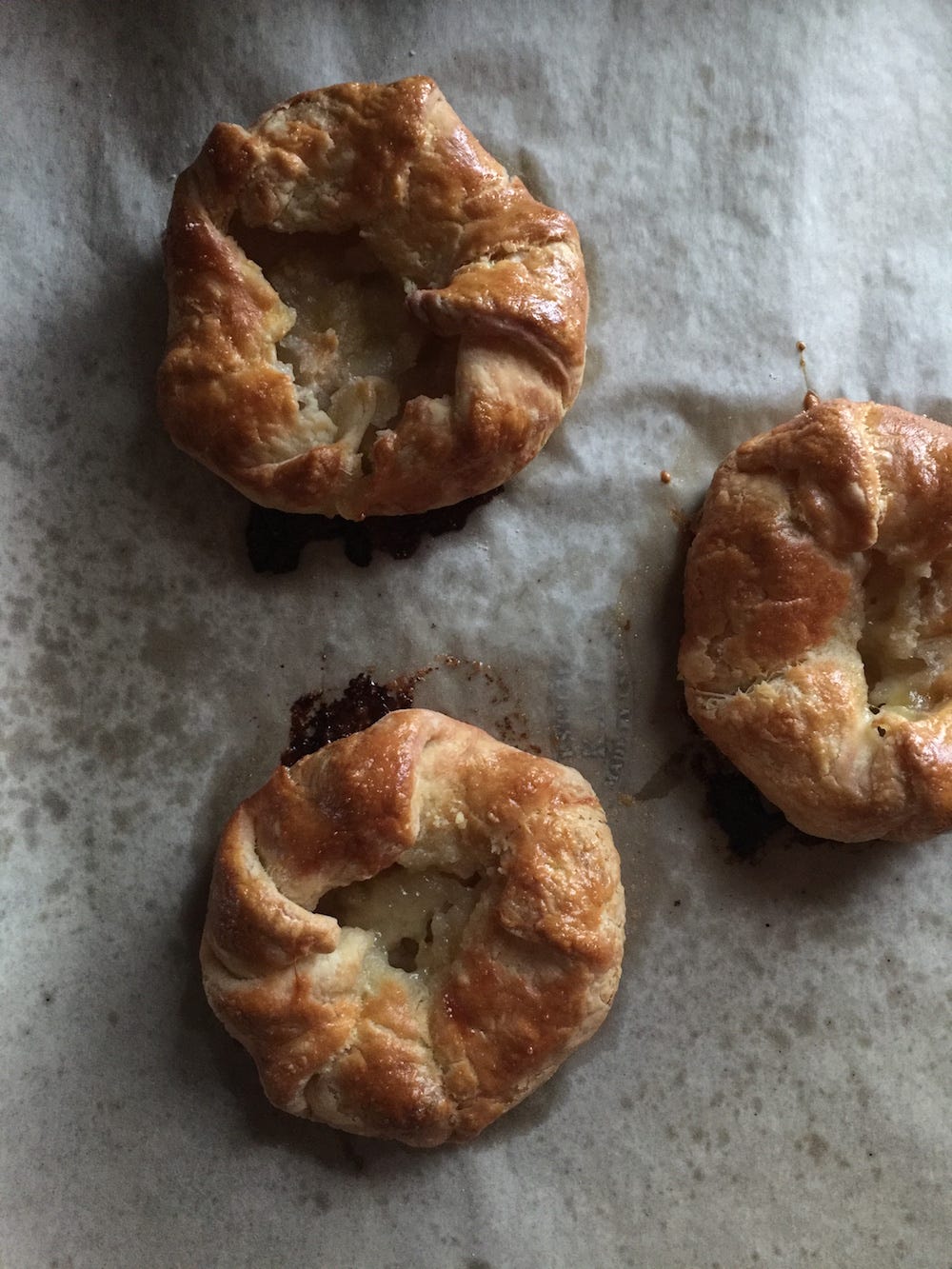 I've found myself getting lost in baking projects more these days. Perhaps it's the change in seasons or just a form of escape from the world as we know it currently. Maybe it's a little bit of both.
I decided to make French Apple Tarts a few weekends ago. Piles of apples at the farm stand and missing Paris compelled me to bake a batch. The tarts are based off one I've bought many times at Poilâne on Rue du Cherche-Midi. Were I to speak too quickly about them, I might even say they're the best apple pastry ever—and I might not be wrong.
Rather than fight for center stage, the apples and flaky, buttery pastry robe are equally important in Poilâne's apple tarts. I got back into an early meditation routine about two months ago, and lately my mind keeps wandering to Paris. Realistically, I've accepted travel like that won't happen until 2022, but mentally and emotionally it's a crushing thought.
We're starting to feel the confines of our tiny home seven months into 24/7 of living here, save two brief escapes to Cape Cod. There's no doubt having a place to call home and even the opportunity to escape it for two weeks during these last seven months is a privilege.
The irony that anyone calling home a privilege in what's supposed to be the greatest nation in the world is disheartening, but it's true. It's also true one can experience thankfulness and longing simultaneously since our experiences are relative to our own unique set of conditions.
Work has been nonstop, and with no separation between work and home, I'm feeling very depleted. It's different when you're a freelancer working from home. Your time is your own, you can set the rhythm for the days, weeks, even months. Working a staff job from home, where you're required to be attached to Slack, email, and have narrowly defined deadlines is a whole other beast. I'm trying to set better boundaries between my work and personal life. Trying—it's a start.
I delete Slack from my phone now once I sign off on Fridays, and that's helped immensely. When I find my mind wandering to work things, I push it back and write notes if it's something I really don't want to forget but I do not dare go near my work laptop—that gets tucked in my backpack on Friday evenings, not to reappear until Monday mornings.
Most weekends I intend to take it easy, curl up with a book, or get lost in a movie. What really happens is I use my recipes as a passport to a different time and place. And so, these apple tarts are my way of taking a quick trip across the ocean.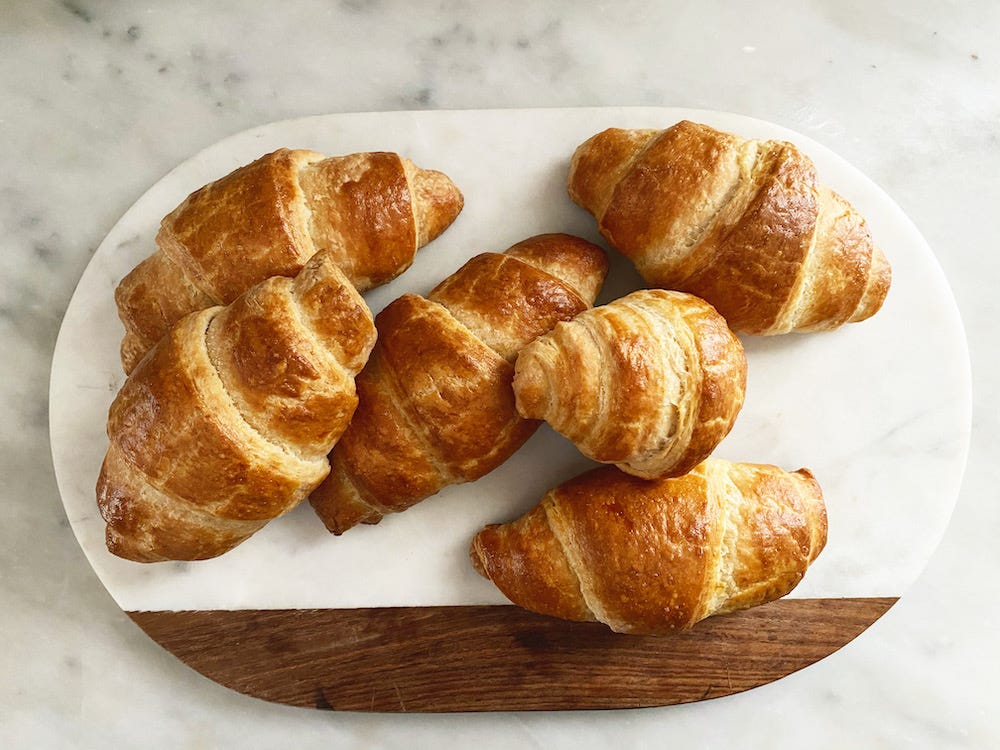 I've also been working on a recipe for quick croissants. They're a cross between a cornetti and croissant, buttery but not to rich, veering more towards light and airy than flaky. After six years of living up here, there's finally a very good place to get croissants but they sell out quickly and are about an hour roundtrip drive away. In a way, it's just easier to make them myself, even if they're a hybrid version.
Recreating a recipe for olive biscuits has been another project. They're inspired by a kalamata olive studded biscuit I buy from a Greek couple every year at the Wellfleet Farmers' Market. Their olive cookies are reminscent of taralli in shape and the ingredients resemble each other closely (they both have wine) but these Greek olive biscuits aren't boiled beforehand and have a good dose of olive oil resulting in a velvety, crumbly texture.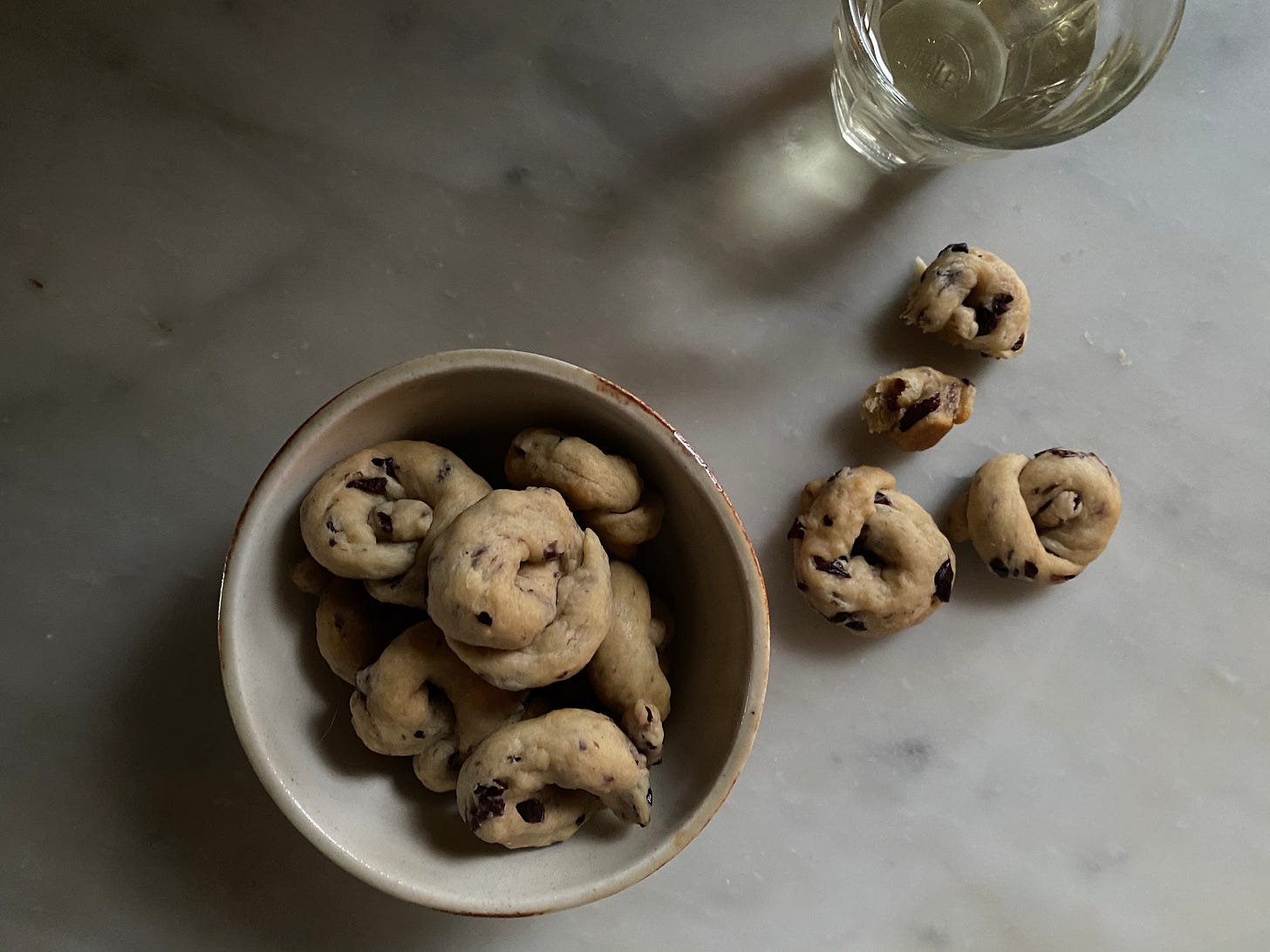 And Rachel's wine biscuits, ciambelline al vino, have been on repeat, too. Another close cousin of crunchy taralli biscuits, but these are baked straight away and have sugar, making them a sweet biscuit. I can't quite decide if I love them more with white or red wine, but maybe a choice isn't necessary? Perhaps I can love them both equally…
Before I forget, did you know Poilâne ships internationally? I've known this for some time, and have never ordered, always wondering how they'll get bread here in any condition to eat since all international mail has to go through customs. BUT, their new cookie tin is available, so I'm thinking it'd be a nice birthday gift for myself next month. The question is do I buy an empty one or a cookie-filled tin?
Be well and be kind
- jennie
Recipe for my French Apple Tarts is here.
Note: recipe is written using my pie crust recipe but I've also been making it with this rough puff pastry. Baking temperature and time is the same.